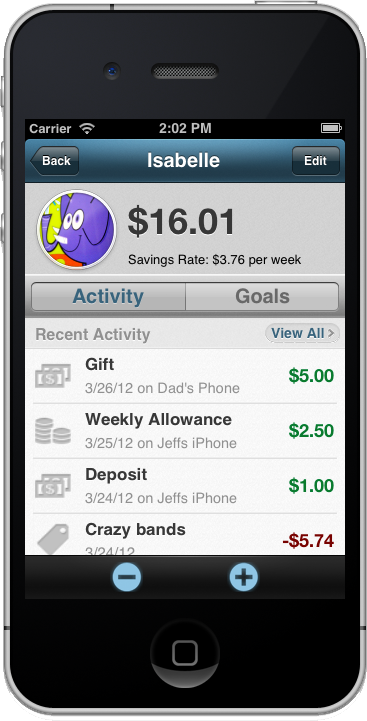 Buckaroo is an elegantly simple way to take the hassle out of managing your children's money. Not only does it make things easier on the parents, it creates opportunities to teach your children basic money management skills and encourage productive spending and saving habits as well.
In today's modern world, "cash" is becoming less and less relevant. ATM's, credit cards, debit cards - few of us are purchasing with cash on a regular basis any more. Not only is it important for kids to learn how to manage money they can't actually put their hands on, a cashless system is simply easier and more convenient to manage. That's why Buckaroo is cashless - it keeps track of your children's balance and transactions using virtual money without involving actual cash.
Buckaroo is not an sprawling, complex, exhaustive financial management application designed for CPAs, it's simple and easy to use tool to help parent's track and monitor their kid's spending and saving habits. Buckaroo let's you setup a virtual bank account, no real money changes hands. If you choose to provide a weekly allowance, it is automatically deposited each week. If you pay your child for chores or meeting certain goals, you simply deposit that amount in the virtual account through the application.
In the App Store!
Buckaroo - Cashless Allowance Manager
Developer:
Exact Magic Software, LLC
Rated:
4+
Price:

$0.99 Download